Chinese 古琴 Guqin Zither: Experience zen sounds of the ancient Chinese Guqin Zither a.k.a. Chinese Violin Guitar, which Confucius praised as the gentlemen's music instrument of choice.


View in iTunes

More Video
How to fix the "NO Sound" issue.

Rated a KILLER APP by apps4idevices – Here's their sample

2011-11-25
古琴 Guqin Zither version 1.3

Harmonic Overtones – ' = an octave up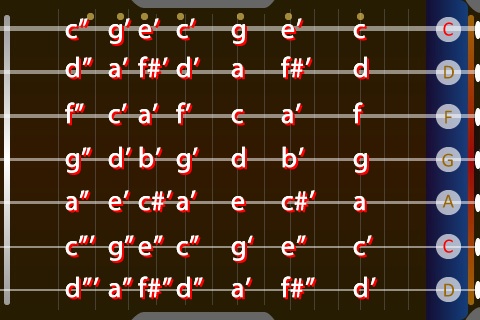 Chinese 古琴 Guqin Zither – 射鵰英雄傳之鐵血丹心

The Chinese Guqin Zither is one of the oldest music instruments in the world, dating back 5000+ years. Unique in being fretless, the Guqin allows continuous pitch sliding much like the violin or cello. And like the classical guitar, the player uses the right hand to pluck and strum the strings while the left hand controls the pitches of the seven strings turned in the major pentatonic scale C D F G A C D or Do Re Fa So Ra Do Re.
It was designed with one technique particularly in mind and that is the heavy usage of harmonics. The ancient Chinese invented the harmonic system even before sine waves existed to describe string wave dynamics. The spots on the soundboard are called harmonic spots, which guide the player as to where harmonics can be triggered clearly.
Its beautiful relaxing tones and expressive complexity have made it the ancient scholar's music instrument of choice. Needless to say, it was expected that all upper class nobles be masters of the Guqin. Sages such as Confucius wrote many scriptures on the Guqin and praised it as the gentlemen's instrument.
Now everyone with an iPhone, iPod Touch, and iPad can experience the joy of playing the Chinese Guqin Zither.