4/26/2016 Opponent Defenders
Group 1


Group 2


Group 3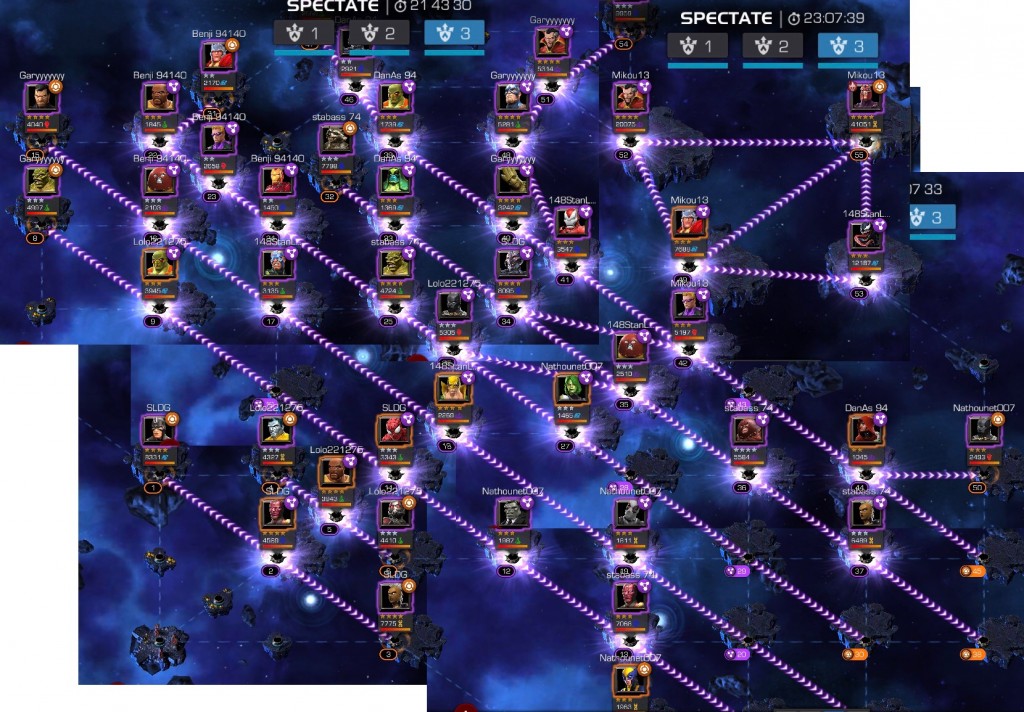 Alliance War Path Order
Red, green, purple & lastly blue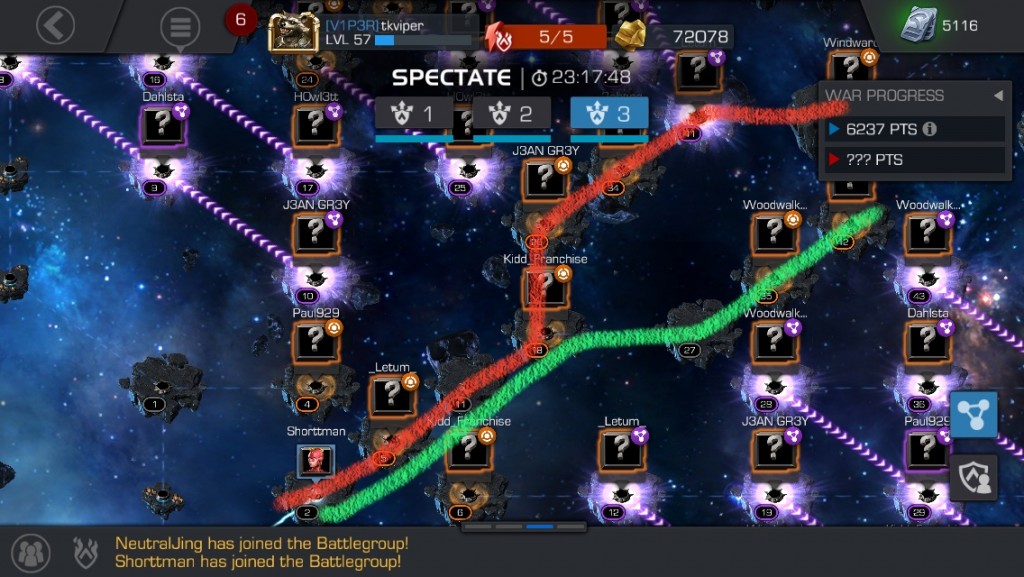 PLEASE READ Summoner Advancement (SA) Policy
– If we can't reach 265k points in SA 5 hours before it ends, we will temporarily kick out bottom 6 players to lower the next SA limit to 160k points, which is easy to reach. They can rejoin afterwards.
– This ensures top 24 players rightfully get SA rank rewards every week.
– This eliminates the need to kick out low scoring members. No quota required.
– This encourages everyone to score high. When 265k is reached, everyone stays and gets SA rank rewards.
Alliance Rules: 
1. Join and commit to alliance quests (AQ) and follow strategy below.
3. Communicate via Chat or Google Hangout App (see list of members below).
3. Don't score zero in any alliance event. Try to go over the average.
4. Long unreported absences or counter productiveness = Kick out.
AQ Best Practice
1. Commit to the quest. Check in often & help especially towards the end.  Even if KO'ed, you can move forward to speed up the path for others to fight.
2. Chat among battlegroup or use Google Hangout App: Plan moves & report wait time.
3. Pick a path that needs the most help based on other members' health level, position along the path, and alliance quest time limit. Whenever possible, choose a path that gives you class bonuses.
4. Balance all paths so all members are moving forward together at the same pace clearing linked nodes for each other in turns.
3. Never fight a boosted strong champ/boss. Tap the link icon at the bottom right corner to check which link node is boosting which champ/boss. (see picture below)
5. When link nodes are destroyed, their linked champ/boss will be weakened
6. While waiting for others to clear a link node that is boosting your next node, always move to/wait in front to refill your energy.
7. Let boss killers attack bosses first. Then those with 3 champs take turns attacking with only one champ. When KOed, let other members attack. Every member must stay healthy for the last section.
8. Optionally use attack/health boosters to improve performance.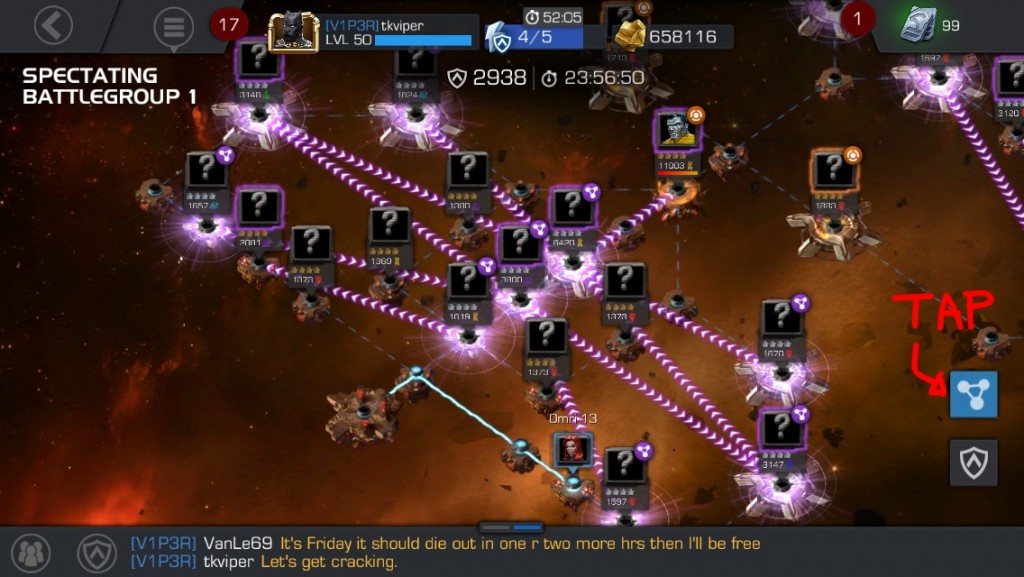 Act 4 Chpater 2 Quest 1 – Mystery Bosses Revealed
Top Path: 4k Gamora, 5k Uns. Colossus, 6k Juggernaut, 4k Capt. Marvel
Center Path: 4k Thor, 4k Magik, 4k Electro
Bottom Path: 4k Deadpool, 4k Capt Marvel, 4k Scarlet Witch, 4k Ms. Marvel



Act 4 Chpater 2 Quest 2 – Mystery Bosses Revealed
Left Outer Path: 3k Ronan, 3k Hawkeye
Left Inner Path: 3k Electra, 3k Ironman, 3K Hawkeye
Right Inner Path: 3k Ironman, 3k Ronan, 3k Hulk
Right Outer Path: 3k Abomination, 3k Rhino, 3k Hulk
More to come…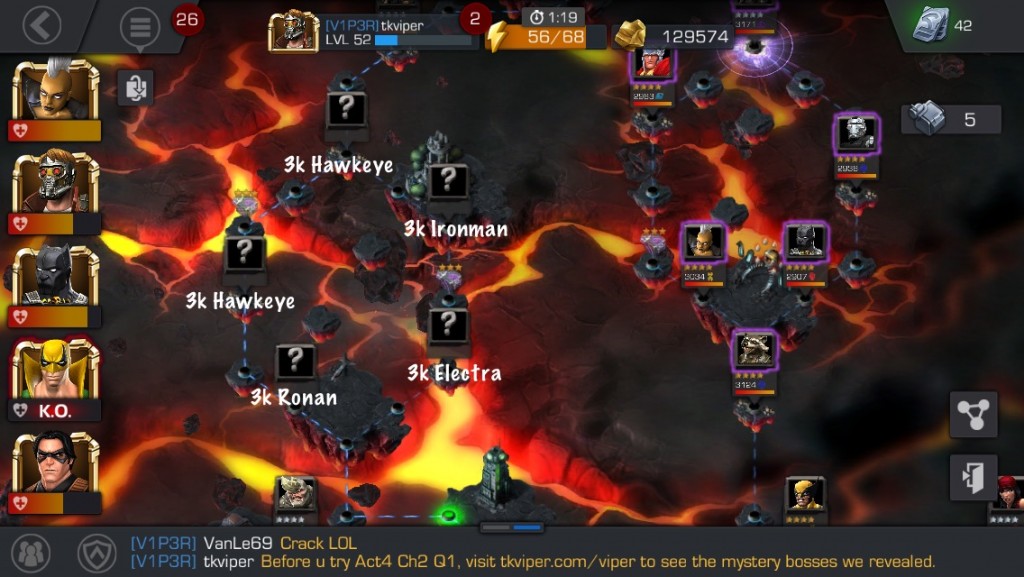 Act 4 Chpater 2 Quest 3 – Mystery Bosses Revealed
3k Panther, 3k Electra, 3.5k Ms. Marvel, 3.5k thor, 3.5 Iron Patriot, 3.5k Rhino, 3.5k Deadpool, 3.3k Juggernaut

Act 4 Chpater 2 Quest 5 – Mystery Bosses Revealed
Left Outer Path: 3.5k Hawkeye, 3.5k Spiderman, 3.5k Juggernaut, 3.5k starlord

---
Alliance Member Timezone
So we know when members are sleeping or working
| LEADER | Timezone |
| --- | --- |
| tkviper (tkviper) | Japan |
| OFFICERS | Timezone |
| alvin (choo.alvin) | France |
| vanle (Vvanlee69) | East Coast USA |
| blizz () | East Coast USA |
| KongCs (Kongcs0303) | Malaysia |
| jing (kratos.el.god.of.war) | East Coast USA |
| lethal | Australia |
| rivalkiller (rivalkiller14) | India |
| boje (Advoocat1) | Malaysia |
| swifty | UK |
| MEMBERS | Timezone |
| Kraze (Romeo2684) | East Coast USA |
| skullyQ8 (Lexiskully) | kuwait |
| MNWetdog (Pederson.chris) | Central USA |
| ghstfce (Gtown727) | East Coast USA |
| heykal () | Middle East |
| alcesl | Australia |
| shorttman (shortty653) | Australia |
| WeiHan (whloh96) | Malaysia |
| fighter (lutador.q8) | kuwait |
| kavi (tan_kok_weehotmailsg) | singapore |
| abhineet (abhineetbanerjee97) | India |
| OurSameWord (oursameword88) | Malaysia |
| Gaurav (gaurav.malik.001) | India |
| romor (coroya13) | philipines |
| dj () | India |
| Silver (marksark11) | India |
| jha (Anik.of.c41) | India |
| toni (Saber.rasoul) | Middle East |
| anikx (Anik.of.c41) | India |